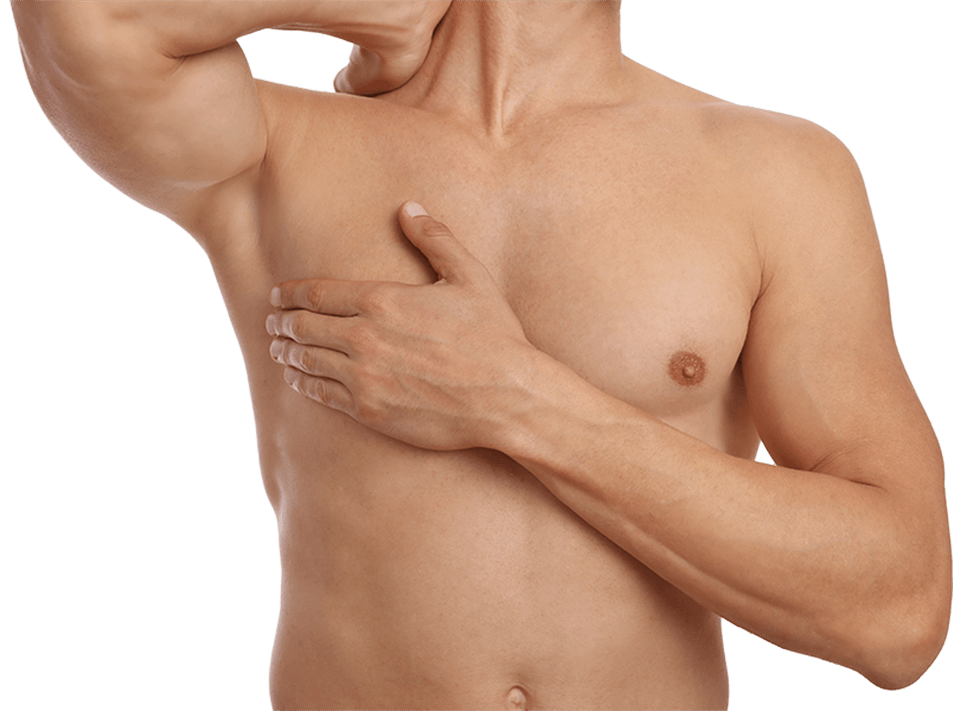 Get a Gynecomastia Reduction

IN GAINESVILLE, FLORIDA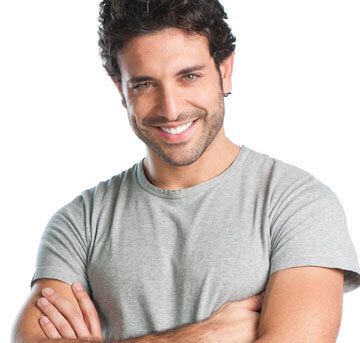 Remove excess breast tissue
Every man deserves to be comfortable when taking off his shirt on the beach or during an intense basketball game with friends. For some men, however, going shirtless can be a serious fear because of their appearance.

Many men throughout the world are diagnosed with gynecomastia or enlarged male breasts. In fact, the American Board of Cosmetic Surgery estimates that up to 50% of men experience this condition at some point in their lifetime.

Some men may be able to lose weight to reduce the appearance of male breasts. Those with gynecomastia experience glandular issues that result in enlarged breasts, even in thin men. Because of societal norms and perceived standards of masculinity, gynecomastia can make men feel unworthy, unconfident, and depressed.

Plastic surgeons at Nesmith Plastic Surgery Center in Gainesville offer quality cosmetic procedures, including gynecomastia (male breast reduction) surgery.
What is gynecomastia?
Gynecomastia causes swelling in men's chest areas, making it appear as if they have enlarged, feminine breasts. This condition is characterized by:
Excess fat in the breasts

Excess glandular tissue development

Sometimes excess breast skin

Presence in one or both breasts
Gynecomastia can occur at any age and may resolve itself over time. However, for some men, the condition persists. This can result in discomfort or embarrassment with shirtless activities like sports or intimacy.
What causes gynecomastia?
While scientists have not determined how or why gynecomastia happens, studies suggest any of the following may be contributing factors:
Hormonal changes (especially during puberty)

Genetics

Obesity or other health conditions

Use of certain medications

Use of anabolic steroids, alcohol, and/or marijuana
Treating gynecomastia with surgery
Gynecomastia surgery reduces breast size in men and can flatten and enhance chest contours. A good candidate for this procedure will be in good physical health, maintain a relatively normal weight, and be over the age of 18.

Male breast reduction procedures take approximately 1.5–2 hours. Depending on the severity of gynecomastia, small incisions are made either around the nipple or underneath the nipple. Dr. Nesmith will then use one of the following techniques:
Surgical Excision: In certain cases, cosmetic surgeons simply cut out the excess glandular tissue or skin around the breast and reshape it.
Combination: Depending on the severity of your gynecomastia, Dr. Nesmith may combine excision and liposuction to deliver the best results. During your initial consultation, Dr. Nesmith will provide a surgical plan specific to your situation.
Liposuction: For larger amounts of breast tissue in men, liposuction produces the greatest results. Suction-assisted liposuction is performed through a thin cannula, removing fat from enlarged breasts and resulting in a slimmer chest and more toned appearance. This technique is ideal for patients without excess skin laxity.
Recovery after male breast reduction

Gynecomastia surgery can correct enlarged male breasts with little to no scarring. For most patients, recovery time takes between two to four weeks to return to normal activities. You can expect to return to work within a week.

After surgery, it is common to experience slight pain, swelling, and bruising in the chest area. Dr. Nesmith may provide you with a prescription to take with over-the-counter medications. In some cases, patients may be instructed to wear a compression garment for several weeks to reduce swelling and improve contour.

You should avoid any type of physical activity that may cause tension or friction on your healing incisions for 2 weeks. After 2 weeks, you can begin light physical activity and gradually increase your activity level per Dr. Nesmith's instructions.

Side effects of
gynecomastia surgery:
As your prepare for surgery, Dr. Nsemith will review potential side effects following male breast reduction surgery. Possible side effects include: 
Excessive bleeding

Infection

Sensitivity in the nipple area

Poor healing process for the skin and breast area

Loss of blood supply to the nipples, resulting in intense scarring
For the best results, patients should avoid smoking after surgery. Patients should also maintain their weight. Substantial weight gain may reverse the work performed and contribute to awkward-looking or downward-sloping breasts.
How much is gynecomastia surgery?
You can view pricing for all of our procedures here. Choosing an experienced plastic surgeon that you are comfortable with is just as important as the cost of the procedure. Dr. Nesmith is a board-certified plastic surgeon who will help you choose the right cosmetic procedure for your needs.
Having confidence in your appearance

As a man, you deserve to feel confident about your body. Social stigmas make it difficult for men with gynecomastia to feel masculine and strong. They may even experience teasing and laughter from those around them.

Adolescent and teenage boys, for example, maybe bullied during puberty. Not only does this result in embarrassment and low-self esteem, but it can transform into larger concerns such as depression, loss of self-worth, and thoughts of suicide.

Do not allow an enlarged male breast to ruin your life. You can count on Nesmith Plastic Surgery Center to help you gain confidence and masculinity in your chest area.
Request A Consultation Today!
Specializing in cosmetic and reconstructive procedures