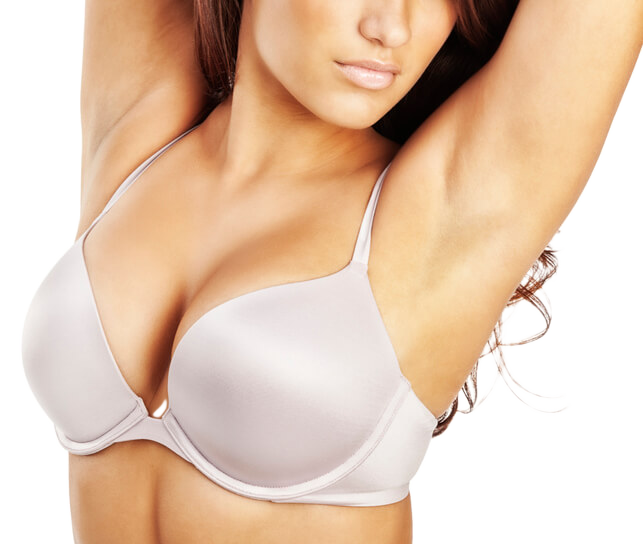 Get Saline Breast Implants

IN GAINESVILLE
Customized breast enhancement
Changes in breast shape, position, and size can occur for a wide range of reasons — from natural aging and weight fluctuations to breast cancer surgery and congenital conditions. Nesmith Plastic Surgery Center offers breast augmentation with multiple types of implants to help patients achieve their desired bustline both for cosmetic reasons and reconstructive purposes. Our surgeons perform cosmetic procedures, each of which is tailored to our patients' aesthetic preferences and medical requirements.
Saline implants are widely regarded by plastic surgeons as a safe and effective option for customized breast enhancement with multiple available shapes and textures for optimal post-surgical results. Our cosmetic surgeons take a comprehensive approach to each procedure and they can advise patients on which combination of surgeries may best benefit their desires for plastic surgery. Contact our office for more information about the available breast implants at our clinic or to schedule a plastic surgery consultation.
What are saline implants?
Saline implants comprise either a smooth or textured silicone shell that is filled with sterile salt water (saline) of which 70 percent of the human body is composed. A textured implant shell serves to keep in place the saline implant while a smooth implant shell allows the implant to move freely (mimicking natural breast movement). Round saline implants may be available in three profiles — from moderate to high — and feature a perfectly symmetrical shape.
Shaped saline implants are available in both moderate and high profile and they feature a contoured, teardrop shape that mimics the appearance of natural breasts. The shape and texture chosen are based on a number of factors pertinent to the patient's preference, body type, and desired results. During breast plastic surgery, silicone implants are inserted into the breast cavity without fluid. Once inserted, the implants are filled to the predetermined size.
Benefits of saline implants
Patients with uneven breast sizes or asymmetrical breasts benefit from the ability to customize the size of each implant. Patients will have a general idea of their saline implant size agreed upon during the consultation. 
Keep in mind that saline implants are not pre-filled, they will be filled once inserted during surgery. This allows our Gainesville plastic surgeons to make any necessary adjustments to the implants for the desired shape, position, and volume. A leaking saline breast implant is not hazardous.
Should an implant become perforated, the leak is immediately and easily noticed as the saline moves freely, causing noticeable changes both to the implant shape and size. If a leak occurs, the saline solution will be naturally and safely absorbed and expelled by the body. 
Saline implants are likewise popular due to their customization with regard to breast size and volume. In addition to their use in breast enhancement surgery, these implants are commonly used in breast implant revision procedures to correct the results of original breast surgery.
Saline vs. silicone implants
When compared with saline-filled breast implants, silicone breast implants feel softer and better resemble natural breast tissue. There is less risk of visible rippling or wrinkling with silicone implants than with saline implants. Silicone-filled options, such as gummy bear implants, may offer greater benefits for:
Patients with very little body fat

Patients that intend to undergo breast reconstruction surgery following a mastectomy

Patients without an adequate amount of natural breast tissue
If ruptured, a silicone implant will not deflate. Leaking saline implants pose a minimal risk to patient health, but perforated silicone implants may pose a threat to patient health. The body cannot effectively absorb the leaking silicone filling. Cohesive gel-filled breast implants post a lower risk of perforation than traditional silicone implants. 
Contact our center for plastic surgery for more information about the types of breast implants available or to schedule a consultation with our plastic surgeons.
Contact Us
How long do saline implants last?
Saline breast implants are not considered to be lifetime devices and they may require replacement. Over time, the breasts evolve due to aging, weight fluctuations, hormonal factors, and pregnancy, among other causes. 
As the appearance of the breasts changes over time, patients may benefit from a breast lift or breast lift with implants. Both procedures restore a more youthful contour and an uplifted appearance to the bustline. 
The majority of saline breast implants last up to 20 years. However, a certain percentage of patients may require implant removal or replacement within 10 years following the initial augmentation.
Saline breast implant procedure
Saline breast augmentation typically requires approximately two hours to perform. This procedure is performed while the patient is under general anesthesia. Breast implants are surgically placed in the pocket either beneath or above the pectoralis muscle through small incisions. 
Patients can choose the area of incisions at their consultation, such as the fold beneath the breast, through the armpit, or at the areola and breast tissue junction. Once the incisions are made, our cosmetic plastic surgeons insert the implant and proceed to fill the implant with the sterile saltwater solution. Once the implants are properly placed, the surgeon closes the incisions with sutures and then applies sterile coverings to the incisions.
Saline implants before and after
Following breast augmentation with silicone implants, patients can expect a fuller and more prominent appearance to their breasts in addition to an improvement in skin tone and texture.  Breast augmentation does yield larger-size breasts immediately following surgery. However, the final results will likely appear after multiple weeks as the skin stretches, the implants settle into place, and the swelling subsides. 
Incision lines will not likely be apparent, as our surgeons strategically place surgical incisions under the bra line or in places where there is minimal visibility. View the saline implants before and after images or contact our office to view additional photos and to schedule a consultation for fat transfer breast augmentation in Gainesville.
View our Before & After Gallery
Recovering from saline breast augmentation
It is important that patients allow their body to heal after surgery. Any drainage tubes placed during surgery will likely be removed several days following breast implant surgery. Swelling and pain are to be expected and medications may be prescribed prior to the surgery to help manage any discomfort. 
Each patient is unique and may recover more or less quickly than initially expected. Patients may have to wear a compression garment after surgery to ensure proper healing. Instructions for both before and after surgery are provided during the initial consultation at our plastic surgery center. 
For optimal recovery, it is crucial that patients follow the provided instructions. Failure to adhere to instructions for care after surgery may exacerbate swelling, pain, and less-than-ideal results from the procedure.
Who is a candidate for saline implants?
The following factors generally affect if a patient is a good candidate for saline implants: 
Must be more than 18 years old

Must be in good health

Would like to increase breast size

Would like to change breast shape

Would like to address uneven breasts
Patients will learn if a saline implant is ideal through a consultation with our plastic surgeons — Dr. Richard L. Nesmith and Dr. Brad Nesmith — during which their medical history, aesthetic goals, and a number of additional factors will be assessed.
Risks of saline breast implants
The risks associated with saline breast augmentation are typically minimal — significant complications are infrequent. This surgery is typically performed without any major problems. 
Risks and potential complications of surgery will be discussed during the initial consultation with our plastic surgeon. Potential risks associated with plastic surgery include the following. Contact our plastic surgery center today to schedule a consultation for breast enhancement surgery.
Changes in sensation

Anesthesia reactions

Implant leakage

Visible scarring

Implant rupture

Capsular contracture

Hematoma or seroma

Persistent pain

Implant wrinkling

Excessive bleeding

Nerve damage

Surgical site infection
Request A Consultation Today!
Board-certified plastic surgeons