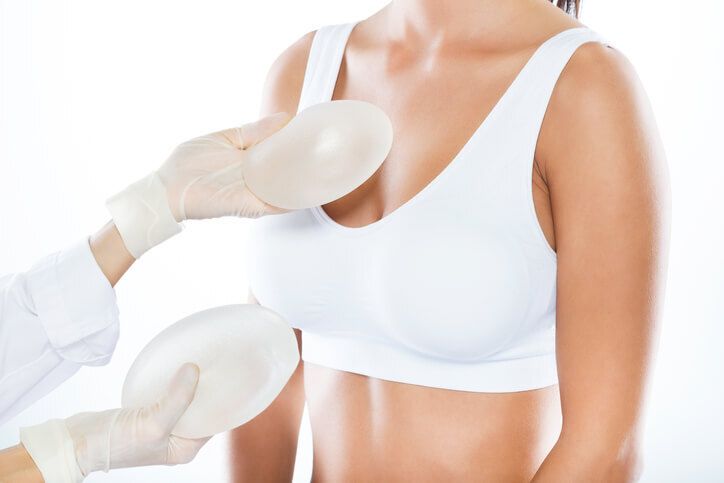 Get Silicone
Breast Implants

IN GAINESVILLE, FLORIDA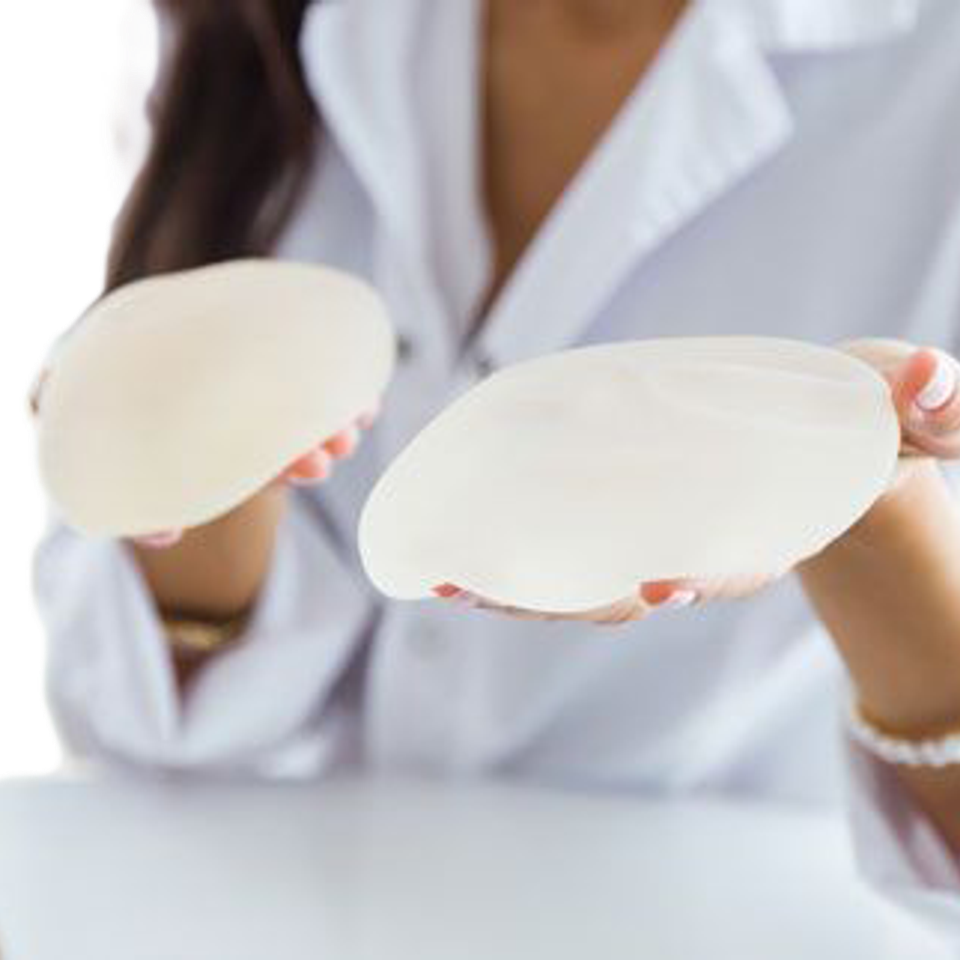 Breast enhancement options to fit your needs
Silicone breast implants are a viable option for patients looking to enhance their breasts. Different breast size or shape is easily achieved through augmentation with the use of silicone implants. 
Our patients who undergo breast augmentation often have the desire to harness confidence by altering their breast shape or size, as many patients experience changes to their natural breasts after pregnancy, weight loss, or illness. Also, our breast augmentation procedures can correct asymmetrical breasts or simply provide you with fuller breasts. 
Our board-certified plastic surgeons at Nesmith Plastic Surgery Center are dedicated to skillfully increasing or reshaping your breasts to provide you with ultimate satisfaction. Each patient will have varying breast shape, size and cosmetic goals — a thorough consultation with Dr. Nesmith will determine the type of implants that are ideal for you.
Customized breast enhancement
Changes in breast shape, position, and size can occur for a wide range of reasons — from natural aging and weight fluctuations to breast cancer surgery and congenital conditions. Nesmith Plastic Surgery Center offers breast augmentation with multiple types of implants to help patients achieve their desired bustline both for cosmetic reasons and reconstructive purposes. Our surgeons perform cosmetic procedures, each of which is tailored to our patients' aesthetic preferences and medical requirements.
Saline implants are widely regarded by plastic surgeons as a safe and effective option for customized breast enhancement with multiple available shapes and textures for optimal post-surgical results. Our cosmetic surgeons take a comprehensive approach to each procedure and they can advise patients on which combination of surgeries may best benefit their desires for plastic surgery. Contact our office for more information about the available breast implants at our clinic or to schedule a plastic surgery consultation.
What are silicone breast implants?
A silicone gel-filled implant is simply a breast implant filled with silicone gel rather than saline. This type of breast implant utilizes a textured silicone shell. The implant shell holds a thick silicone gel substance. 
Each breast implant comes pre-filled in a specific size, while the silicone shells vary in size and shape to provide each patient with a unique, personalized shape. The feeling of silicone gel best resembles the feeling of breast tissue.

The
FDA
has approved five types of silicone gel implants:
Allergan Natrelle

Allergan Natrelle 410

Mentor MemoryGel

Mentor Memory Shape

Sientra Silicone Gel
These breast implants are used across the board for breast reconstruction, breast augmentation, and breast revision. Dr. Nesmith and his team will assist you to determine the ideal silicone-gel implant that is capable of delivering optimal results.
What are gummy bear implants?
Cohesive gel implants, better known as gummy bear implants, are a silicone gel-based implant widely recognized for its ability to retain shape while maintaining a natural feel and look. This implant type is teardrop-shaped, which many patients believe most resembles a natural sloping breast. The silicone gel substance is created to be a highly cohesive gel, which is much more solid than other silicone gel types. 
If a patient experiences an implant rupture with a cohesive gel implant, the shape of the breasts will be maintained due to the cohesive nature of the silicone gel. However, it is important to schedule routine MRIs to ensure that a silent rupture has not occurred (since patients will not be able to notice a rupture or leak).
Patients who choose a gummy bear implant should be aware that a longer incision is necessary to place the implants, this may increase the chance of visible scars.
The silicone shell of a gummy bear implant is textured to anchor the implant in place. The textured shell allows the breast tissue to adhere easier and prevent implant movement. As this implant is teardrop-shaped, the movement of the implant will impact the look of your breasts.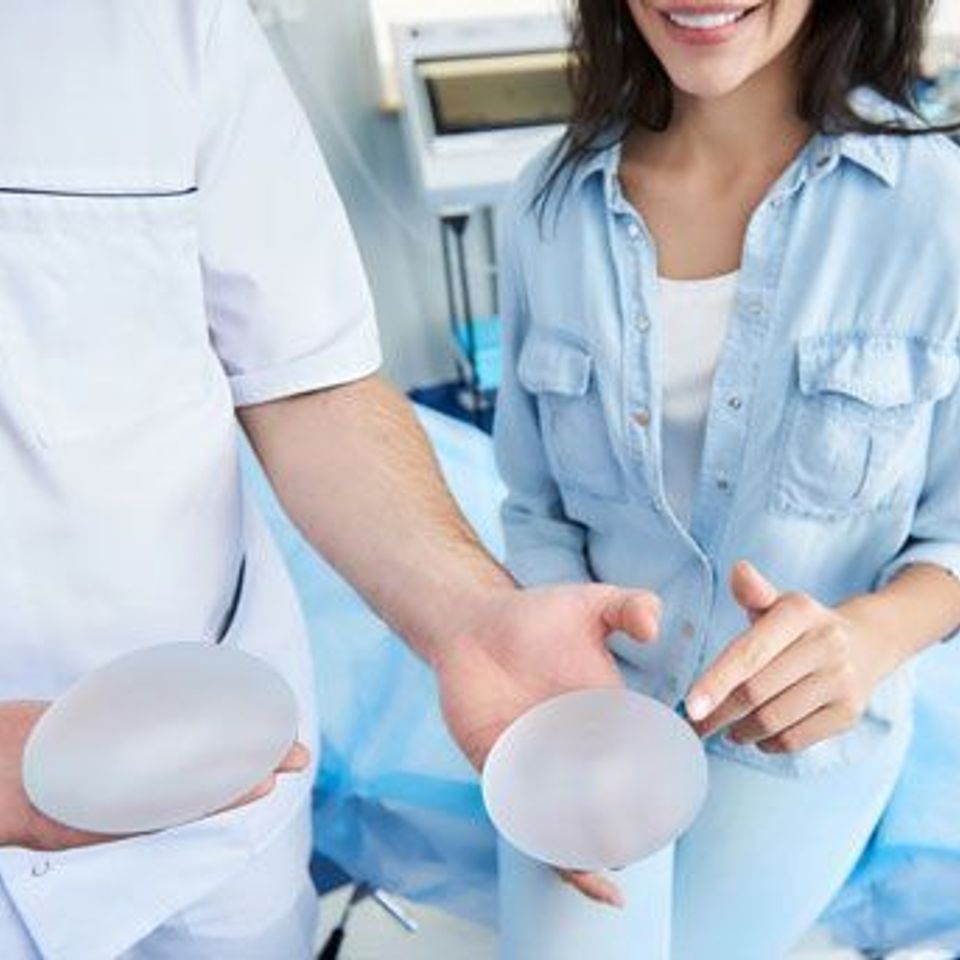 What are the benefits of silicone implants?
Patients choosing silicone implants often find that this implant most closely resembles the feeling of natural breast tissue due to the semi-solid silicone gel used.
A silicone breast implant will not collapse or deflate if a leak occurs, as the thick silicone gel allows the shape to be maintained. This only remains a benefit if patients participate in routine MRIs to ensure a silicone implant rupture has not occurred as undetected ruptures can negatively impact your health.
With saline breast implants, patients may experience rippling or wrinkling of the skin that requires surgery to repair. However, this is not experienced with silicone implants due to the thick gel that is within the silicone mold. The silicone gel stays in place inside of the silicone shell much more effectively thereby reducing the occurrence of rippling or wrinkling breast tissue.
Who is a good candidate for silicone implants?
Silicone breast implants are offered to patients over 22 years of age or patients of any age seeking reconstructive augmentation. Patients in good health who desire to enhance or change their breast shape, size or symmetry are ideal candidates. To determine candidacy, Dr. Nesmith will conduct a consultation with you to address medical history and aesthetic goals.
How long do silicone breast implants last?
Silicone breast implants typically last
16.4 years
on average. Patients may experience varying implant lifespans as the incidence of rupture or desire to remove or alter implants is unpredictable.
Are silicone breast implants safe?
Silicone implants are a safe, FDA-approved option for breast augmentation. The FDA and the team at Nesmith Plastic Surgery Center recommend all patients with silicone implants to schedule an MRI three years after their original surgery and subsequent MRI appointments every two years to ensure the implants are intact.
What to expect at your silicone breast implant appointment
Your breast augmentation surgery will last up to several hours depending on your unique circumstances. All patients are placed under general anesthesia for the surgery. Dr. Nesmith will create an incision to place your gummy bear implants or traditional silicone implants beneath the pectoralis muscle. Once your breast implants are positioned, Dr. Nesmith will close the incisions with sutures or surgical tape.
Results and recovery
Allow your body ample time to recover and heal after surgery. Patients may find a surgical bra supportive and comfortable following during recovery. Pain medication is prescribed to manage discomfort as pain and swelling are to be expected.
If you required drainage tubes during your surgery, you will receive instructions on how to manage these as well as a date to return to have them removed.
Patients will be given a follow-up appointment to return to our Gainesville plastic surgery center. At your follow-up, Dr. Nesmith will examine your breasts and incisions to ensure you are healing properly.
Schedule a breast implant consultation with Nesmith Plastic Surgery Center today!
Request A Consultation Today!
Board-certified plastic surgeons